auto [xt] - http://www.xtdev.com/auto
ÑÂÅÒÎÂÍÈ : TAG Heuer is joining the fastest motoracing sport - 07 Ôåâðóàðè 2004 - 21:31
Mastering the challenge of measuring 1/10,000th of a second
Well-known in the world of Sports as an official Timekeeper for many type of events, TAG Heuer is joining the fastest motoracing sport on earth by becoming a partner with the Indy Racing League (IRL).
New York, February 3rd 2004.
Tony George and the Governing Bodies of the Indy Racing League Championship (IRL) and the Indy 500 Race have today announced that they have appointed TAG Heuer, the world leader in prestigious sports watches and chronographs since 1860, as the official Timekeeper and Chronograph of all the races of the Indy Racing League championship including the mythical Indy 500 Race, the world most prestigious and legendary open wheel race run since 1911 on the Indianapolis Brickyard Speedway.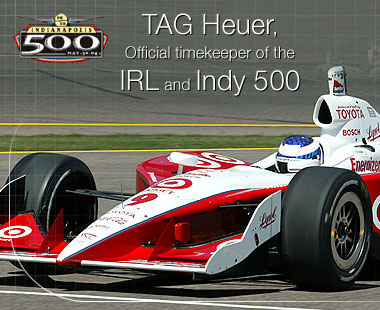 This long term agreement between TAG Heuer and IRL/Indy 500 is a major breakthrough in Timekeeping and new challenge for TAG Heuer. Indeed, IRL and Indy 500 races are both the fastest motoracing races on earth with average speeds surpassing 200 miles/hour and the most competitive with time differences in qualifying as well as race of less than 1/1000th of a second. That is why, they are the only ones to be monitored at the 1/10.000th of a second, that is 10 times more accurately than Formula 1 for instance.
Since patenting the oscillating pinion in 1886, still today a major component of high end mechanical Chronographs, and the Micrograph in 1916, the first 1/100th of a second Timekeeping system in 1916, TAG Heuer has been the indisputed leader of watchmaking ultimate accuracy and reliability. This has allowed the Brand to be granted the honour of being appointed official Timekeeper of many major 20th century sports events, including the Antwerp, Paris and Amsterdam Olympic Games in the 1920's. This obsessive search for mastering time and registering mankind's major sports achievements has been crowned with the patenting of the Microtimer in 1966, the first 1/1000th of a second Timekeeping system, which has allowed TAG Heuer legendary watchmaking and timekeeping saga to go further on in the late 20th century with, amongst many feats the Scuderia Ferrari Timekeeping in the 1970's, the Lake Placid and Moscow Olympic games in the 1980's, the FIS St-Moritz 2003 Alpine Ski World Championship or the FIA Formula 1 Timekeeping since 1992.
This partnership with the world's most demanding and prestigious sporting events has helped TAG Heuer's watchmakers in developing the most advanced timepieces, which combine style, functionality, accuracy, and reliability to make TAG Heuer today's fourth-largest luxury watch brand worldwide and the undisputed leader in prestigious sports watches and chronographs. The Microtimer – launched in 2003 as the first-ever wrist chronograph and timekeeping system accurate to 1/1,000th of a second – is characteristic of TAG Heuer's capacity to draw watchmaking inspiration from avant-garde timekeeping without compromising on aesthetics: the Microtimer shape has also won the prestigious Geneva Grand Prix de l'Horlogerie in the Design category.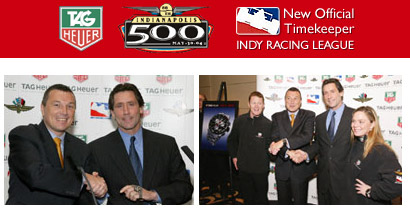 With the IRL/Indy 500 Timekeeping, TAG Heuer watchmakers, designers and engineers enter in a new technological era, mastering time at the 1/10'000th of a second, equipping and monitoring time of 25 to 36 open wheel 700 Hp powered single seaters cars competing at 200 mph for winning the world fastest and most competitive motoracing Championship. For perspective the closest margin of victory in motoracing history was established in 2002 in IRL in Chicagoland by Sam Hornish Jr winning over Al Unser Jr by 2/100th of a second only.
With performance levels further improving and competition more intense than ever, mastering IRL/Indy 500 time to 1/10,000th of a second has become mandatory to ensure the accuracy and legitimacy of qualifying and racing results.
Having pioneered 1/1'000th of a second measurement in 1966, TAG Heuer now has more than 38 years of experience, including the timekeeping for more than 190 Formula 1 races. Today, the company is ready to take on the new challenge of providing the IRL and Indy 500 with the most advanced and accurate timekeeping system ever designed for sports: to 1/10'000th of a second. With sports serving as an inspiration for its watchmakers, TAG Heuer will, for its part, capture and incorporate into its wrist timepieces the spirit and essence of 1/10'000th timekeeping to set new milestones of accuracy in luxury watchmaking. The first step is the launch in 2004 of a new TAG Heuer "Indy 500" wrist chronograph in a 2000 pieces Special edition available in TAG Heuer authorized retailers as of April 2004.
"Appointing TAG Heuer as our official Timekeeper has been for us a natural choice and decision" comments Tony George, CEO of Brickyard and Indy Motor Speedway organizing both the IRL Championship and the Indy 500 race. "Indeed, who, better than TAG Heuer, can guarantee ultimate accuracy and reliability in the quickest motoracing sport on earth. TAG Heuer has demonstrated since more than one century its superior ability to master time and an unsurpassed know how to design and develop the most accurate timekeeping systems and prestigious watchmaking pieces. We are very happy and believe that thanks to TAG Heuer unique technology and experience, time will more than ever drive our competition unique thrill".
Jean-Christophe Babin, President and CEO of TAG Heuer added; "in 1966, we set a new milestone in mankind capability of mastering time with the Microtimer tracking the 1/1000th of a second. This has allowed TAG Heuer to be associated with the most prestigious sports icons of late 20th century and early 21st century like Scuderia Ferrari, the Lake Placid Olympic Games or more recently the FIA Formula 1 World Championship. With this new partnership, we set a new milestone in our history, 10 times more accurate than ever before. To coordinate that ambitious program, we have appointed the best timekeeping expert in the world, Jean Campiche, head of TAG Heuer Timing Division, and responsible for our Company Formula 1 programs since 1971 when we started partnership with Ferrari. We are very honoured by IRL/Indy 500 trust and choice and will do our utmost, not only to enhance IRL and Indy 500 time dimensions, but also to develop new innovative wrist timepieces out of the technologies used for motoracing, as we have done in 2003 with the Microtimer 1/1000th of a second, directly born from our 1/1000th of a second experience accumulated in Formula 1 over the years".
TAG Heuer
Press Release
More info about TAG Heuer and IRL and Indy 500 at http://www.tagheuer.com/irl/
auto [xt]