This beautiful town lies at 1150 m of altitude, at 75 km to the South of Plovdiv and 10 km to the North of the resort Pamporovo.
This is the perfect place for a family vacation at reasonable prices.
Here there is a chain of small family hotels, which offer a boarding holiday with all the facilities and the home comfort, so much desired by the holiday-makers. Sitting by the sparkling fire with a glass of the finest wine, you will enjoy the human contact with your hospitable hosts. Chepelare is a wonderful resort for the ski sport - it has the longest ski run in the region (5200 m) with a double seat chair-lift, a ski school and snowboard. Each family hotel offers a ski-room, and a children's ski club "Snowman" has specially been opened.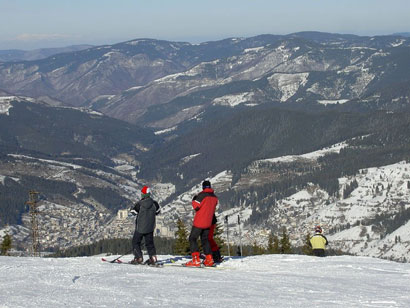 photo: www.chepelare.com
Chepelare has its own ski area, Mechi Chall (Bear Peak), located at the outskirts of town. A double chairlift to the 1,820-meter summit accesses two runs (one advanced, the other intermediate).
Mechi Chal ski runs - Chepelare
Chepelare has its own ski area, Mechi Chal (Bear Peak) located at 1km distance

- for Alpine ski run – 3250 m long, 50 m wide, fall 720m;
- for tourist ski run – 5150 m long, 25 m wide, fall 720 m;
- for long distance skiing – 3000 m long, 1860 m elevation.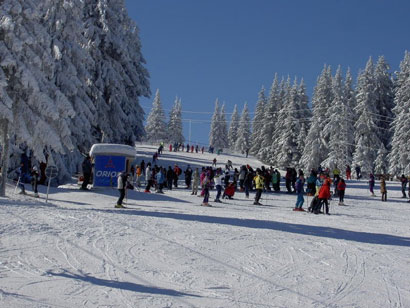 The skiing infrastructure is well developed, the comfortable double-chair lift, with total length 2471m takes 500 skiers to the top of the mountain just for 17min, two ski tows and ski-rooms are available.
Webcam - ski zone "Chepelare - Mechi Chal" here.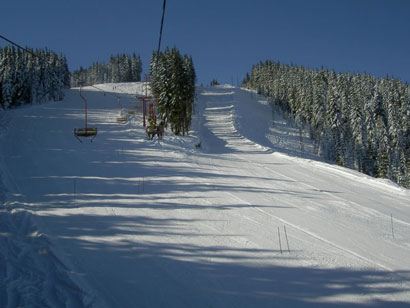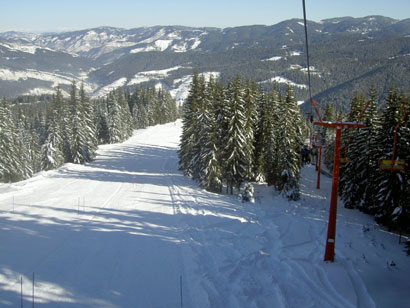 photos by www.chepelare.com
Several hotels in Chepelare offer ski-equipment.
A biathlon piste and a shooting range are located in Chepelare as well as a children ski tow, sports area including two tennis courts and a volleyball playground, hall for volleyball and table-tennis, indoor swimming pool, sauna, hotel.
The pleasant transitional climate strongly influenced by the Aegean sea, the century-old spruce, pine and fir forests, the well developed infrastructure, recreation and entertainment facilities make Chepelare an attractive winter and summer resort. The town has the cleanest air and the highest number of sunny days in the country but despite all that sunshine, enough precipitation fall to provide the area with plenty of snow.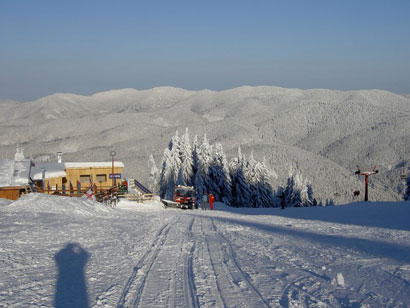 That's why one of the main activity in Chepelare municipality is the tourism. The following kinds of tourism are well developed: winter ski tourism, summer mountain hiking, country tourism, culture tourism.
Apart from the geographical and climatic conditions the tourist industry is determined by the historical and cultural heritage (there are traces of prehistoric, Thracian, Roman, Hellenic and Old-Bulgarian culture), unique folklore wealth and traditions still kept by the inhabitants of Chepelare municipality.
Recreational opportunities are provided by the local Tourism Council and Hotel- and Restaurant-Keepers Association in Chepelare. There are 2 hotels (200 beds available), 11 family hotels and private lodgings - 1,2 and 3 stars (total 275 beds available). In Pamporovo there are 10 hotels - 1,2, and 3 stars, total 2265 beds available; a 5-star-hotel - 160 beds and 10 rest homes - 1205 beds. There is a motel as well and several hotels are under construction. There is a hunters' and six tourists dorms in the territory of Chepelare municipality.
Stoudenets Tourists' Association - in the town of Chepelare, established in 1934, tel. 03051/2927, 3261, 2061. The association runs the below listed chalets and rest homes and offers recreation, excursions, etc.
Skalnite Mostove Chalet – first class, located in the western Rhodopes, near the Rock Bridges nature phenomena, 12km from the village of Zabardo, 17km from the central road Plovdiv - Smolyan (after the village of Hvoina, to the right), 1620m above sea level. The Chalet has 86 beds, in rooms with 2,3, 4 and more beds. Most of the rooms has private bathroom facilities, central heating. Works all the year round. There is a restaurant - 80 seats, well-stocked bar , music and video available.
Pashaliitsa Chalet – second class. Located at 15km from the village of Pavelsko, at 750m above sea level. It is a two-storey building electricity and water supplied. Local steam heating. There is a snack-bar, kitchen facilities and dining hall. There are 3, 4 or more beds in a room, bathroom facilities on each floor. Works all year round.
Izgrev Chalet – second class, located 12 km from the town of Chepelare, at 1800m above sea level. It is within 2h 30minutes' walking distance and the marking is good. The building has 3 floors, there are room with 3,4,5, and more beds, total 80 beds available. Electricity and water supplied, well-stocked bar, kitchen facilities, dining room and sitting-room. Log used for heating. Works all year round. Excellent conditions for ski-running and orienteering.
Zagrad Tourists' Home in the village of Zabardo is located in the village centre. The rooms have 2,3, and 4 beds - total 42 beds, each room with bathroom facilities. Bar with music and video, kitchen facilities. Works all year round.
Choudnite Mostove Chalet – second class, located in the western Rhodopes, near the Choudnite Mostove nature phenomena, 11km from the village of Zabardo, 1450 m above sea level. Choudnite Mostove chalet in fact is a complex of several buildings. The oldest one is a small and neat 2-store-building with a kitchen and dining hall. It can accommodate ten people. The other two buildings (each can accommodate 20 people) are next to it. In summer tents are pitched. Log and coal used for heating and electrical stoves as well, shared bathroom facilities. Works all year round.
Peshternyak Tourist Home - it is located in the town of Chepelare. There are 85 beds available, 3 suites, restaurant, wet bar and ski rentals.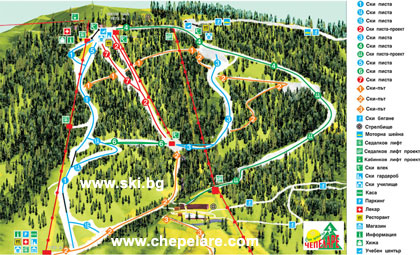 SKI FACTS:
.TOTAL SKI RUNS - km
.LONGEST SKI RUN - km
.OFF-PISTE SKIING -
.SLOPES EXPOSURE -
.HIGHEST SKI POINT - 1873 m
.MAX. VERTICAL DROP - m
.HEIGHT OF RESORT - m
.DRAGS - , CHAIRLIFTS - , GONDOLAS -
.NAMES OF SKI RUNS -
For more information about ski zone "CHEPELARE", look at WWW.CHEPELARE.COM !