Winner of first downhill from Alpine FIS Europa Cup Bansko 2008 is Stefan Thanei (ITA). Second ranked is Cristoph Alster (AUT) and third - Peter Struger (AUT).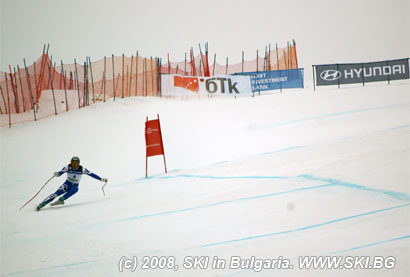 Stefan Thanei (ITA)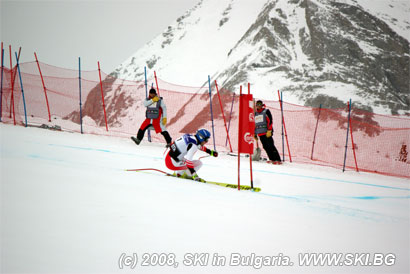 Christoph Alster (AUT)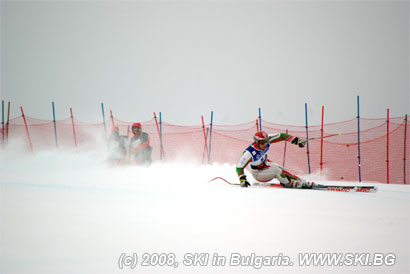 Georgi Georgiev - Gogo (BUL)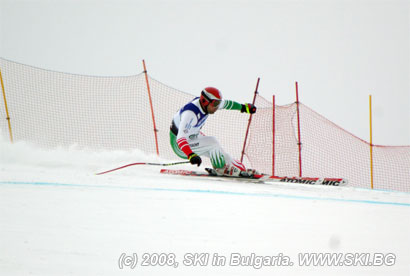 Stefan Georgiev (BUL)
MORE INFO COMING SOON !!!
MEGA PHOTO GALLERY SOON HERE !!!
Place   Bansko (BUL)   Discipline   Downhill
Date   07.03.2008   Category   European Cup
Race codex   1218   Gender   M
Valid for FIS Points   YES   TD Name   Berthod Martin (SUI)
Rank Bib FIS Code Name Year Nation Total Time FIS Points
 1  5  292291 THANEI Stefan  1981  ITA   1:24.55  6.67
 2  7  50761 ALSTER Christoph  1980  AUT   1:24.68  8.75
 3  4  50919 STRUGER Peter  1982  AUT   1:24.84  11.30
 4  10  510498 ZUEGER Cornel  1981  SUI   1:25.04  14.49
 5  42  511039 KREUZER Ralf  1983  SUI   1:25.21  17.21
 6  17  51332 SCHEIBER Florian  1987  AUT   1:25.35  19.44
 7  32  510165 HOFER Beni  1978  SUI   1:25.74  25.67
 8  8  192122 PITTIN Alexandre  1983  FRA   1:25.80  26.63
 9  6  50831 GRAGGABER Thomas  1981  AUT   1:25.97  29.34
 10  45  293550 MARSAGLIA Matteo  1985  ITA   1:26.02  30.14
 11  3  561067 PERKO Rok  1985  SLO   1:26.27  34.13
 12  2  150421 ZAHROBSKY Petr  1980  CZE   1:26.30  34.61
 13  12  561006 GLEBOV Alek  1983  SLO   1:26.33  35.09
 14  18  510307 BRAND Olivier  1980  SUI   1:26.36  35.57
 15  23  510969 BONETTI Michael  1982  SUI   1:26.38  35.89
 16  22  511142 LUEOEND Vitus  1984  SUI   1:26.44  36.85
 17  15  193034 BOUILLOT Alexandre  1985  FRA   1:26.52  38.12
 18  11  192139 VIEUX Cyril  1983  FRA   1:26.62  39.72
 19  30  561085 KRIZAJ Andrej  1986  SLO   1:26.63  39.88
 20  26  511139 KUENG Patrick  1984  SUI   1:26.64  40.04
 21  16  293236 HOFER Elmar  1985  ITA   1:26.76  41.96
 22  13  290844 DEFLORIAN Mirko  1980  ITA   1:27.02  46.11
 23  48  220656 DRAKE Edward  1986  GBR   1:27.08  47.07
 24  25  292756 PENASA Massimo  1983  ITA   1:27.13  47.86
 25  27  510434 MATTI Bernhard  1981  SUI   1:27.26  49.94
 26  28  51186 UNTERDECHLER Clemens  1985  AUT   1:27.30  50.58
 27  38  561117 KUERNER Miha  1987  SLO   1:27.47  53.29
 28  40  193560 PASQUIER Alexandre  1987  FRA   1:27.55  54.57
 29  54  90131 GEORGIEV Georgi  1987  BUL   1:27.68  56.65
 30  35  51326 PROMOK Franz  1987  AUT   1:27.72  57.29
 30  24  201987 STRODL Andreas  1987  GER   1:27.72  57.29
 32  51  90047 GEORGIEV Stefan  1977  BUL   1:27.85  59.36
 33  19  201811 STECHERT Tobias  1985  GER   1:27.88  59.84
 34  37  201542 STRODL Peter  1982  GER   1:27.91  60.32
 35  53  90103 SEDIANKOV Mihail  1982  BUL   1:28.08  63.03
 36  47  53837 KRAMER Manuel  1989  AUT   1:28.14  63.99
 37  49  511682 FRAVI Jonas  1990  SUI   1:28.55  70.54
 38  55  92562 PRISADOV Stefan  1990  BUL   1:28.60  71.34
 39  56  92534 CHONGAROV Nikola  1989  BUL   1:28.99  77.56
 40  36  510923 NADIG Andreas  1982  SUI   1:29.11  79.48
 41  31  560447 SPORN Andrej  1981  SLO   1:29.26  81.87
 42  57  92570 GEORGIEV Svetoslav  1991  BUL   1:30.11  95.45
Did not start 1st run :
BOSSERT Antoine (FRA), BRANCH Craig (AUS), KLOTZ Siegmar (ITA)
Did not finish 1st run :
STAICU Dragos (ROU), NICOLAE Florentin-Daniel (ROU), CRAWFORD Douglas (GBR), PUCHNER Joachim (AUT), SCHRITTWIESER Stefan (AUT), ZUEGER Diego (SUI), FLASCHBERGER Christian (AUT), FAYED Guillermo (FRA), STEHLE Johannes (GER), FISCHER Thomas (GER), GARNIER Thibault (FRA), DURAND Jeremie (FRA)